This post contains affiliate links.
Vinyl planks especially luxury vinyl planks, or LVPs, are one of the several versatile floorings that can be used in different rooms and spaces. They are also being used as a good alternative to hardwood floors. In wet areas where wood flooring can be damaged by water, vinyl plank flooring is one of the options that is being recommended. But are vinyl planks waterproof and can you use them in wet areas?
All vinyl planks especially luxury vinyl planks, of all brand names are 100% waterproof. They can be submerged in water and will not warp, get damaged, or grow molds. They are safe and ideal to use in wet areas such as in bathrooms, and basements.
There are advantages to using vinyl planks, especially if you plan to use them in wet areas and we'll discuss some of them in the next sections below.
Are Vinyl Planks Waterproof?
Vinyl planks are made entirely of a combination of synthetic materials or plastics that are completely 100% waterproof. Unlike flooring containing organic materials like hardwood or laminate flooring, vinyl planks can be soaked and submerged in water for several years and will not deform, warp, and get damaged in any way. Vinyl planks are not affected by extreme humidity and moisture changes because they do not absorb liquid.
Watch the video below where they tested 3 types of flooring, including vinyl planks, which were submerged in water for 2 days, and see the results.
There are two general types of vinyl planks which are the glue down and the floating types. Both types of vinyl planks are 100% waterproof. It is one of the top advantages of using vinyl plank flooring.
Are All Luxury Vinyl Planks Waterproof?
There are several luxury vinyl planks available in the market such as Shaw, COREtec, Mohawk, Armstrong, and NuCore and they are all waterproof. Aside from being equally waterproof, each brand offers different aspects and qualities in their vinyl plank floors that make them unique.
Will Dog Pee Ruin Vinyl Planks?
Vinyl planks will not get damaged by dog pee or urine. Since vinyl is made out of synthetic material, it will not absorb your pet's pee or urine. Dog pee will not stain vinyl planks as well and you can easily wipe it off dry with a cloth or mop. This is why vinyl planks are one of the best floorings you can use for dogs and pets in general because of this characteristic.
Vinyl plank flooring will also protect the subfloor from dog pee as it will prevent it from seeping through the flooring.
Is Vinyl Plank Flooring Slippery When Wet?
The newer vinyl plank products, including luxury vinyl planks and luxury vinyl tiles, already have a special coating applied on top that makes them anti-slip. All the best brands of luxury vinyl planks are anti-slip and will not be slippery even if they get wet. This is another reason why using vinyl plank flooring in wet areas is ideal and safe.
Do You Need to Put Anything Under Vinyl Plank Flooring?
Most manufacturers don't recommend that you put anything under the vinyl plank flooring whether it be an underlayment to soften the floor or a vapor barrier when installing below grade or in a basement.
Most of the best brands of luxury vinyl planks already have a pad attached underneath the planks to make them softer to walk on and to reduce the noise when walked on so an additional underlayment is no longer needed. Adding another layer of underlayment will only make the vinyl plank floor unnecessarily too soft or unstable. It is best to avoid placing any of them under your vinyl floors unless the manufacturer explicitly told you to do so.
You would, in some cases, might consider adding a moisture barrier, or vapor barrier if you're installing the plank below grade or in a basement to prevent water from getting under the flooring. Not all manufacturers require a vapor barrier though as some vinyl plank flooring with an already attached underpad serves as a vapor barrier as well.
For better guidance, always check the manufacturer's recommendations. Although most of the newer products will already have an underpad attached underneath the planks, you may get a product with no pre-attached underpadding.
Below is an example recommendation list, by a vinyl plank manufacturer, the Lifeproof brand. As shown in their specifications sheet in the image below, neither a vapor barrier nor an underlayment is required when installing the flooring.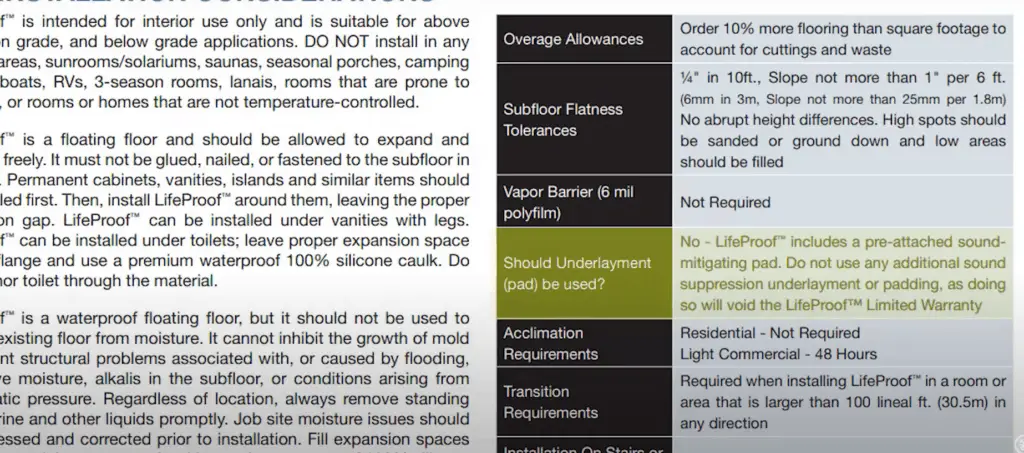 Can Water Get Under Luxury Vinyl Plank Flooring?
The floating type luxury vinyl plank flooring, with the click-and-lock system, will prevent water from getting through to the subfloor. As long as the joints are not damaged, and the vinyl floor perimeter is well sealed with caulking or silicone, it is water-tight and water will not be able to get under the flooring. The vinyl plank joints were designed so that water will not penetrate it even if you leave it standing for a long time.
The glue-down vinyl plank flooring on the other hand may allow water to seep through the joints if a pool of water was left on the surface for a long time. If you're installing the vinyl plank flooring on an area where it could possibly experience getting wet, consider installing the floating type vinyl planks, with the click-and-lock system, instead.
Here's a video demonstrating how the floating type luxury vinyl plank prevents water from getting through its joints.
The only possible reason for water to get under the floating type vinyl planks is if the joints get damaged due to improper installation or accidents, a bad product used, or if the caulking or sealant around the perimeter gets damaged.
Not all types of vinyl plank flooring will prevent water from seeping through. You need to use the right type of vinyl plank to make sure all seams will be 100% watertight.
What Happens if Water Gets Under Vinyl Plank Flooring?
If water did manage to get under the vinyl plank flooring because of a damaged joint or an improper floor installation, nothing will happen to the vinyl flooring. Since it's waterproof, the vinyl floor will not get damaged.
The first thing you need to do if ever water gets under the vinyl plank flooring is to dry it out. Although water will not damage the vinyl planks, it can damage the wood subfloor, or it can allow molds to grow on the concrete or wood subfloor.
The water under the flooring will not dry out so easily on its own if you don't do anything. The best thing to do is to expose the subfloor by removing the whole vinyl flooring or to remove just a few pieces and force air underneath it with a fan to dry out the water quickly. Since the vinyl planks will not get damaged if they ever get wet, you can install them back to your subfloor without any problems as soon as everything becomes dry.
Can Vinyl Planks Be Used in Wet Areas?
Vinyl planks are good options to use for wet areas since they are 100% waterproof. All of the best brands of luxury vinyl planks are also designed to be anti-slip and it wouldn't be slippery to walk on even if they become wet. For most residential and commercial wet area applications, using vinyl plank flooring is ideal and safe.
Most vinyl plank flooring is designed for indoor use only, so if you're looking for something to be installed on the outside, it would be better to consider other flooring materials instead.
Is Vinyl Plank Flooring Good in a Bathroom?
Vinyl plank flooring is good to use in bathrooms. It can be submerged in water and be subjected to extreme moisture and humidity changes without warping or distorting it. Make sure that everything is sealed properly, especially the edges of the floor where it meets the walls, to make sure water will not get under the vinyl flooring.
Is Vinyl Plank Flooring Good for Basements?
Since basements can sometimes get flooded, it is ideal for its flooring to be waterproof. This makes vinyl planks a good flooring option to use for basements.
Another particular characteristic of vinyl floors is their high durability. Since basements are flexible spaces that can be used for any type of activity, from light to heavy, the floor can sometimes be subjected to different kinds of abuses such as impacts from falling objects or scratches from different sources. Most vinyl plank floors have a top coat and wear layer that can resist any impact or scratches that they may be subjected to without causing them any major damage.
Other Advantages of Vinyl Floor Planks
Aside from being waterproof, all vinyl floors are scratch-resistant as well. Scratch resistance does vary for every product of every floor brand and will depend on the wear layer and top coat applied to the planks. This is another advantage of vinyl floors have over other flooring types. These also make them ideal to use in areas where moisture resistance and high durability in flooring are needed.
If you want to learn more about other waterproof and scratch-resistant floors, check out the 8 Best Waterproof & Scrath-Resistant Floors article.
Not all brands of vinyl planks have the same types of wear layer and protective top coat applied to their products, and some will be more scratch-resistant than others. The luxury vinyl planks that are in the higher price range group usually have better wear layers and top coats, which equates to a higher resistance to scratches, compared to the lower price range group.
All About Materials is a participant in the Amazon Services LLC Associates Program, an affiliate advertising program designed to provide a means for sites to earn advertising fees by advertising and linking to Amazon.com. We also participate in other affiliate programs which compensate us for referring traffic.